Reader comment on Andrew Cohen's passage ...
On Mar 3, 2011 Dinesh wrote:


Last night, in place of the circle of sharing, we had a surprise guest speaker -- Cynthia Jurs.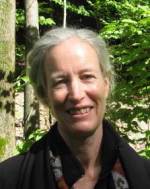 Cynthia has practiced in the Tibetan Vajrayana and Zen Buddhist traditions for 25 years and in 1994 received dharma transmission from Zen master Thich Nhat Hanh to teach Engaged Buddhism. She directs the Open Way Sangha in Santa Fe, New Mexico, which draws from all wisdom traditions to teach an approach to living in awareness in relationship to the Earth through dedicated practice, ceremony, retreat and pilgrimage. In 1990, she met a 106-year-old Tibetan hermit and meditator, who asked her to bring healing and protection to the Earth by filling and burying Earth Treasure Vases in places of need around the world. To date, 23 of the 30 vases have been planted around the world, and the journey of the next seven is unfolding now.
Audio of Cynthia's talk (mp3), with stories from her journey: